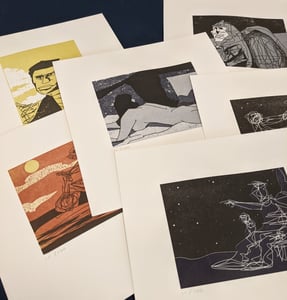 $

180.00
Set of six 7"x7" letterpress prints, 1- to 3-color, on 110C archival paper
Numbered edition of 100
Plate signed
All proceeds to go to Patrick's family
The Author's Photo 1968 (2 color)
Father Pointing Out Constellations to Child (2 color)
Grim Reaper (2 color)
The Vision (1 color)
Late Morning Bike Ride (3 color)
Waking Up at Two O'Clock in the Morning (3 color)
When ALS finally managed to stop cartooning genius Patrick Lee Dean from making art with his hands, he learned to draw using eye gaze technology. Patrick picked these six pieces himself, and they were exquisitely produced as museum quality archival letterpress prints by Laughing Owl Press. The combination of the high-tech digital eyegaze artwork and the timeless textural quality of letterpress is really something.
Patrick died in May. I know he had felt happy that there would be these physical prints of some of his eyegaze works, and he felt good knowing that the sales would be supporting his family after he was gone. I wish he could have seen the prints before he died, but I wish a lot of things.
A tremendous amount of thanks to Laughing Owl Press, and especially to Ingrid, who went above and beyond to make these prints so beautiful, as well as the entire project affordable. I can't recommend them enough.
You can see more of Patrick's eyegaze works, as well as the physical drawings he was still doing while otherwise completely immobilized, on his instagram.
Buy Patrick's incredible graphic novel Eddie's Week from Birdcage Bottom Books.
Notes:
As you know, shipping in 2021 may be unpredictable. I will get these sent out with lightening speed but can't guarantee they'll arrive before Christmas. On request I will make up a "certificate of ownership" if the physical prints don't make it to you in time. If you want me to send yours with expedited shipping, email me.
These prints are not currently being sold individually, and may never be! If you want a specific print, I strongly suggest you buy the set.